Gentle readers, we continue with our series of character interviews I am conducting. Recently, I had the delight of chatting with Harriet Beamer, the heroine of the Christian fiction novel Harriet Beamer Takes the Bus (April 24, 2012/Zondervan) by author Joyce Magnin.
POV Boot Camp (PBC): Harriet, what do you love most about the journey you are taking?
O, goodness gracious I am just so excited about the whole kit 'n kaboodle, the adventure, meeting new people, seeing places I've only dreamed of and of course collecting new salt and pepper shakers along the way. It's a big country!
PBC: So, any drawbacks or challenges?
Beamer: Well, I am older and so sometimes my knees ached and my back hurt. And I did get tired easily. But I didn't let that stop me. Not with a whole country to see.
PBC: What are your greatest hopes and dreams?
Beamer: Oh that's easy, Dear, I want to be a grandmother. Unfortunately, my son Henry and his wife Prudence are taking their time in that area.
PBC: What are your greatest fears? Weaknesses?
Beamer: I am scared to death of spiders, especially Daddy Long Legs. Yuck. And I will always and forever have a weakness for chocolate.
PBC: Do you have any hobbies or special interests?
Beamer: Yes. Salt and pepper shakers. I collect them. I have been for many years and have over 3000 sets and some singles. I just love them.
PBC: How about pet peeves? What annoys you?
Beamer: Those kids who wear their pants so low. I just can't stand that and wish they have some self-respect. And misplaced apostrophes.
PBC: What do you value most?
Beamer: Family, Jesus. My dog, Humphrey, my memories of Max, my collection, friends, love, butter cookies, Christmas.
PBC: Tell me a bit more about your family and friends. What do you like about them? Dislike?
Beamer: Oh dear, now you make me all misty-eyed. My dear Max, my late husband died quite a while ago. I miss him terribly. He was a builder. Built the house we lived in for . . . so many years. And there is Henry, the spitting image of his Dad, and his wife Prudence. Who I adore. And then there's my Humphrey—my Bassett Hound. My best friend and companion. Such a good doggie. He likes donuts.
PBC: Harriet, in your own words, could you tell us a bit about the author of your novel, Joyce Magnin
Beamer: Oh, I adore Joycie, that's what I call her. She is just so smart and talented and funny. She makes me laugh and cry sometimes because she has a way with the bittersweet things in life. Did you know she plays video games? I think that's awesome. But I'll let you in on a secret, Joycie is not the most organized person in the world, a great writer but never look in her closets.
PBC: So, Harriet, what do you think of Joyce Magnin? What do you like or admire about her? Anything you dislike?
Beamer: Besides what I just told you, I think she's terrific. I adore her sense of humor and well, you know Joycie is truly one of the nice people of the world.
PBC: Harriet, if you had one question you could ask Joyce, what would it be?
Beamer:  Why in the heck did you make me cross the Royal Gorge in a gondola? I was scared half out of my mind. Well, not as scared as that other woman—the one who was screaming. But still . . .
PBC: If you could change one thing in Harriet Beamer Takes the Bus, what would it be?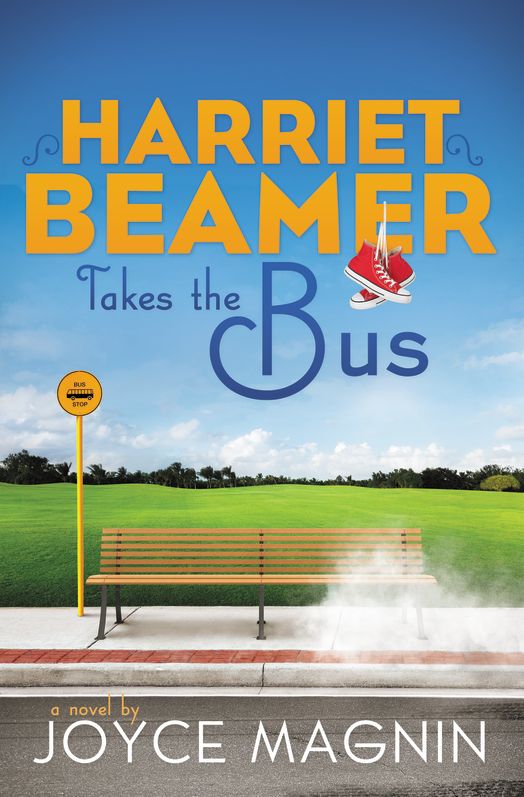 Beamer: That's easy. I would have loved for the journey to last even longer, to visit more cities and towns and meet more people. But who knows, maybe Joyce will send me out on another adventure.
PBC: Harriet, if you could spend a whole day with Joyce, where would you go and what would you do together?
Beamer: Well, after I talked her into going hunting for new salt and pepper shakers, I would like to go to the Philadelphia Art Museum and then out for a nice lunch. Doesn't that sound lovely?
PBC: Harriet, what do you think of the cover of Harriet Beamer Takes the Bus?
Beamer: HA! I love it. It's just so . . . .so me
PBC: Thanks for stopping in and chatting with us, Harriet!
Beamer: Thank you! I had a blast.
Readers, it's your turn! Got any questions for Harriet about her adventure or anything else on your mind? Comment away. If one of your characters would like to chat with us here, send me an email and we'll set a date.