Gentle readers, we continue with our series of character interviews I am conducting. Recently, I had the delight of chatting with Eden Morgan, the heroine of the novel Mistaken Identity (June 15, 2011/Desert Breeze Publishing) by K. Dawn Byrd , the author of Queen of Hearts.
POV Boot Camp(PBC): Eden, what do you love most about Mistaken Identity?
Eden Morgan: It was such fun to be a part of Mistaken Identity! I realized my dream of becoming a cheerleader and worked really hard at the six goals I set. I just knew, if I made them, it would be the best summer ever.
PBC: So Eden, any drawbacks or challenges?
Eden: I went through a lot with my best friend and wondered if she was my friend at all sometimes. She did some things that are going to be hard to forgive.
PBC: What are your greatest hopes and dreams?
Eden: I want to finish high school and college. I'd like to be a counselor like my mom. I'm hoping that Channing is the guy for me and that we'll get married and one day have a family.
PBC: What are your greatest fears? Weaknesses?
Eden: I'm terrified of losing Channing and, after having my best friend try to take him away, I don't quite trust anyone with my boyfriend. I know I have trust issues and I'm trying to work on them, but it's not easy.
PBC: Do you have any hobbies or special interests?
Eden: I love my new car! My parents bought me a Mustang convertible for my birthday.
PBC: How about pet peeves? What annoys you?
Eden: I don't like people who lie to me.
PBC: What do you value most?
Eden: My family and my faith. My little sister can be a real pain, but I love her.
PBC: Tell me a bit more about your family and friends. What do you like about them? Dislike?
Eden: My mom is a Christian counselor. She's really good at helping people. My dad is an architect and teaches Sunday school. My boy-crazy little sister spends most of her time bugging me. My best friend, Lexi, is now an ex-best friend. I just can't trust her after the way she lied and tried to make everyone believe that my boyfriend was in love with her.
PBC: Eden, in your own words, could you tell us a bit about the author of your novel, K. Dawn Byrd?
Eden: K. Dawn is married and has two hairless Chinese Crested dogs. It took me a long time to figure out how to pet a hairless dog, but I really like them. K. Dawn loves to write so much that she just signed a contract for a young adult mystery series. She said the first book will come out in January.
PBC: So, Eden, what do you think of K. Dawn Byrd? What do you like or admire about her? Anything you dislike?
Surname: I really like K. Dawn. She loves the Lord and tries to live for him. She irritated me a little when she let Lexi pick on me so much.
PBC: Eden, if you had one question you could ask K. Dawn Byrd, what would it be?
Eden: Why did you have to make Channing so perfect? If we break up, I'll never find another guy sooooo perfect!
PBC: If you could change one thing in Mistaken Identity, what would it be?
Eden: I'd make it a perfect world where people never divorce, kids aren't hurt in car wrecks, and parents don't have drug or alcohol problems.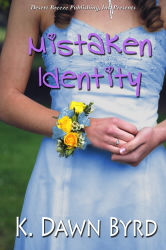 PBC: Eden, if you could spend a whole day with K. Dawn Byrd, where would you go and what would you do together?
Eden: We'd go to the lake in my story and hang out. I had so much fun there with Channing that I'd like to go again. Maybe we could double date.
PBC: Eden, what do you think of the cover of Mistaken Identity?
Eden: I love it! The photo is of me in my prom dress. You can't see my face, which is fine, since I'm a little shy.
Thanks for stopping in and chatting with us, Eden! Readers, it's your turn! Got any questions for Eden about Mistaken Identity or anything else on your mind? Comment away. If one of your characters would like to chat with us here, send me an email and we'll set a date.