It is with great trepidation that an young author reviews a best selling author like Donita K. Paul. Publishing houses' editing departments rarely bother to scrutinize the novels of proven best sellers with the fine tooth comb every novel deserves. Pointing out where perhaps a technique did not well serve the readers' interest, as usually happens with me, can come across quite badly.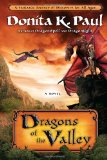 So with that caveat, I was quite delighted to get a chance to review Ms. Pauls' novel, Dragons of the Valley. The novel follows Princess Tipper (an elf I think), her friendly artist-turned reluctant swordsman, (a dwarf I think) a wizard with creepy crawlies constantly falling out of his clothes who sounds like the wizard from the 80s My Little Pony movies to me (but much taller), a dwarf librarian, and a rather sanguine pixy/sprite/fairy without wings. Oh yeah, and an talking parrot and Tippers parents: a rather inane princess you'll either love or despise (annoyed me to death) and a wizard-artist. I think those are all the main characters. Most of them are POV characters, too.
Tipper, her artist-swordsman, and I think the wizard whisk away three statues that cause chaos in the universe and malaise in the people when they're separated due to being carved from the chief cornerstone of the world. (huh?) Much of it involves keeping the statues safe and trying to stop the Grawl (crossbred ogre) and other low life operatives from an enemy nation which is disrupting trade routes and taking out persons in authority ahead of an invasion. Yes, eventually, there are quite a few dragons, too, including a cute little baby dragon.
It is a very large story, set in a dynamic unique world that seeks to make her own unique mark on the Fantasy genre. But, though it was not advertised on the jacket anywhere, this book is part of an ongoing series and the author alternates between throwing things out there that new readers have to look up in her glossary at the back of the book (annoying to me personally) and putting words on her characters' mouths to explain what we've missed that the characters wouldn't realistically be saying. I don't know how noticeable that would be to non-literary types, however. The dragons seem to have secrets and color coding that new readers are not made privy to. Some readers may be disappointed that they do not appear until chapter 12 (out of 56.)
My biggest concerns are the twins of occasionally distancing the reader from the character, emotionally especially, which tends to slow down pacing as well as make it harder to identify with the character. The twin concern is quite a few key, plot turning events are told to us, either through direct narrative summary or via conversations. As an author, I relate to the fact the book is already over 350 pages and showing those key events would make the book much longer. As a reader new to Paul, it makes it even harder for me not to get lost in this strange new world.
That said, Ms. Paul definitely knows how to keep readers turning pages and draws dynamic, unique characters with clear crisp voices distinct from one another. The fact I still much enjoyed the story, and didn't get so hopelessly lost that I gave up, speaks to her expertise and skill as an author. She's earned the respect and renown she enjoys.
Readers new to Donita K. Paul may want to consider starting with an earlier work, and readers who have difficulties with the book features mentioned above, or unwieldy names, should take that into consideration. Her fans should eat this up and ask for me.
Other Tour Participants:
Gillian Adams
Noah Arsenault
Amy Bissell
Red Bissell
Justin Boyer
Keanan Brand
Grace Bridges
Beckie Burnham
Keanan Brand
Morgan L. Busse
CSFF Blog Tour
Amy Cruson
D. G. D. Davidson
April Erwin
Amber French
Andrea Graham
Katie Hart
Ryan Heart
Bruce Hennigan
Becky Jesse
Cris Jesse
Jason Joyner
Julie
Carol Keen
Dawn King
Emily LaVigne
Shannon McDermott
Matt Mikalatos
Rebecca LuElla Miller
Joan Nienhuis
John W. Otte
Donita K. Paul
Sarah Sawyer
Chawna Schroeder
Tammy Shelnut
Kathleen Smith
James Somers
Fred Warren
Phyllis Wheeler
Dave Wilson