Gentle readers, we continue with our series of character interviews I am conducting. Recently, I had the delight of chatting with Erica Brogna, the heroine of the historical romantic suspense novel Burning Hearts by Nike Chillemi (Desert Breeze, May 12, 2001).
POV Boot Camp(PBC): Erica, what do you love most about Burning Hearts?
Erica Brogna: I pride myself on being the independent sort, sensible and all that, but I still have to admit, for me the best part of Burning Hearts was meeting and falling in love with Lorne Kincade.
PBC:So, any drawbacks or challenges?
Erica: With the close of World War II, I was so conflicted. So many of the boys I'd grown up with didn't come back. And then when my friend and employer Ada Pinter was killed in a house fire set by an arsonist, well my faith was shaken.
PBC: What are your greatest hopes and dreams?
Erica: I always loved high fashion. Our family couldn't afford a subscription, so I'd run to the library to read fashion magazine. Then I'd sketch my own designs. As to my own style, well, I guess you could say I'm fashion forward. I was the first woman in our village to wear slacks. Let me tell you, it caused quite a stir.
PBC: What are your greatest fears? Weaknesses?
Erica: I'm afraid someone else I love will die. I lost Ada, who was more like an older sister than an employer and so many of my school buddies never made it back from the war. Then it seemed as if our village, where I'd always felt so secure, had become a dangerous place with a crazed arsonist on the loose.
PBC: Do you have any hobbies or special interests?
Erica: Drawing new fashion designs thrills me. I love to set up Momma's Singer sewing machine and whip up my fashion ideas. I'll usually create designs for Christmas and birthday presents. I make dresses or blouses for the ladies and dress shirts for the fellas.
PBC: How about pet peeves? What annoys you?
Erica: Gossip. I hate it.
PBC: What do you value most?
Erica: My family, my friends, my church community.
PBC:Tell me a bit more about your family and friends. What do you like about them? Dislike?
Erica: Momma holds the whole family together and Poppa is a tower of strength. I love my brother Willie to pieces, but he's a bit annoying, like younger brothers can be. I've already told you about Ada. Her murder shook me to the core. My best girlfriend is Katrina, just graduated from the hospital's nursing program. We share everything. Then there's Lorne Kincade, who invaded my world on his Harley Davidson and became very important in my life.
PBC: Erica, in your own words, could you tell us a bit about the author of your novel, Nike Chillemi?
Erica: Nike's often called a crime fictionista. I think that's kind of a humorous name. In your day, you also have fashionistas. I guess I'd be one of those. Nike lives in New York City, which she calls Gotham. I thought that was where Batman lived, but that's Nike for you. She lives with her family in a part of New York that is very close to the Atlantic Ocean. She loves the seaside and most of her novels are set not far from the shores of the Atlantic.
PBC: So, Erica, what do you think of Author? What do you like or admire about her? Anything you dislike?
Erica: I like that although Nike has a simple faith, she also has a mature one that can navigate the harshness of life. I got mad at her when she wrote in a scene where Lorne got badly beaten up. She likes to beat up her main characters. She even had me whacked over the head. How do you like them apples? Well, I didn't like it much.
PBC: Erica, if you had one question you could ask Nike, what would it be?
Erica: Why did Ada have to die in a horrid fire like she did?
PBC: If you could change one thing in Burning Hearts, what would it be?
Erica: I wouldn't have had Ada die, but then there wouldn't have been a story. I guess that's why Nike's the writer and I'm the seamstress with dreams of becoming a designer.
PBC: Erica, if you could spend a whole day with Nike, where would you go and what would you do together?
Nike: While Nike was typing, I could hear something in the background called The Food Network. I'd like to come over to Nike's house and have her cook a meal for me. From what I gather, Nike's been cooking a new way and has been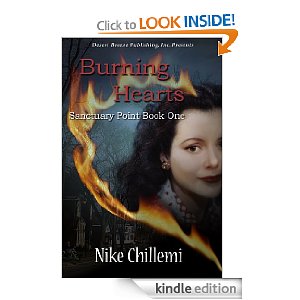 losing weight. She makes a lot of sautéed dishes in some type of citrus or wine sauce and she loves making soups. She's known for using fresh seasonal ingredients.
PBC: Erica, what do you think of the cover of Burning Hearts?
Erica: Well, I was surprised to see it had an image of me. I love the flaming heart.
Thanks for stopping in and chatting with us, Erica! Readers, it's your turn! Got any questions for Character's Name about Burning Hearts or anything else on your mind? Comment away. If one of your characters would like to chat with us here, send me an email and we'll set a date.